AL NASR LEISURELAND SUMMER CAMP 2017
FROM 4th June to 24th August 2017 Sunday to Thursday from 9:00 am. to 1:30 pm.
For the kind attention of the Parents

Dear Parents,
We would like to take this opportunity to welcome your children to our 28th Summer Camp,
Our various activities are scheduled and numerous, so we would like to explain the system
Of our operation and how it could be beneficial to your kids.
Age
Registration Fee
Duration
: From 7 to 13 years
: Dhs. 1000/- (12 skating coupons + Two T/Shirt free)
: One Month (22 working Days) (Sunday to Thursday)
Activities included:
Swimming: Daily from 9:00 am to 10:30 am. 1- Session with instructors & group lesson 20 min. supervised by our lifeguard.
• Skating (General) every day except Tuesday (10.30 to 12.00nn)
• Cooking & baking classes every Monday for Girls only.
• Art & Craft, Sun. Mon. Wed. Thu. (9:30 am to 1:20 pm)
• Dance. (12:00 nn to 1:20 pm)
• Henna: (Wed. & Thu.)
• Face Painting (Mon and Thu).
• Fun Day : Every Thursday (Magic Show, Group Dancing, Face painting)
• Outdoor Trips: Every Tuesday outdoor trip, (Extra charges as per trip).
• Reading Quran for Muslim kids only.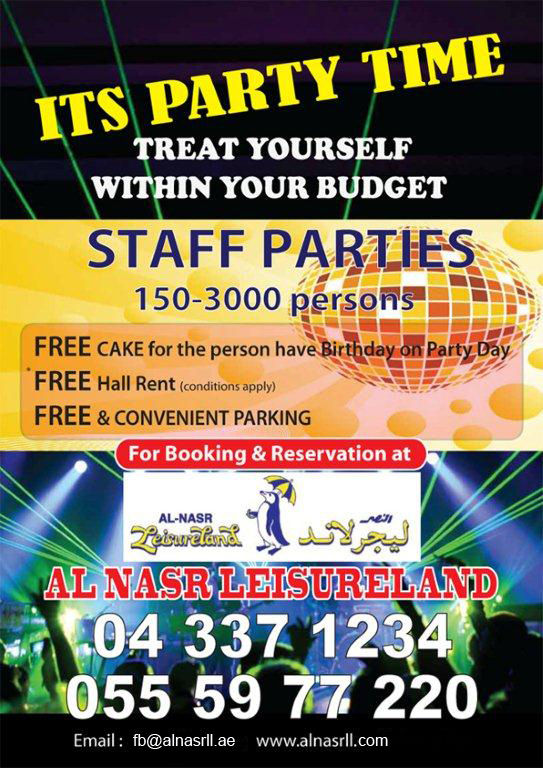 **Additional activities to be charged by prepaid coupon at the rate of Dhs. 5/- (coupon on sale at Summer Camp office and at the Reception)
• Skating : Daily one ½ hour 10:30 am. – 12:00 nn
• Bowling : General Dhs. 5/- (1- game)
• Billiards : General Dhs. 2/- (1- game)
• Luna Park Ride : Dhs. 5/- (3 rides)
• Squash : Dhs. 250/- (10 classes, timing from 12:00 nn. – 1:00 pm.)
• Meals : Our Chef has prepared special Kiddies Menu in very reduced price served at our Al Safa Coffee Shop
• Transport : Insured shuttle buses will pick up and drop your children safely from Dubai or Sharjah and back, (additional charges): KM/Lamcy/RH: Dhs. 250/-,Karama Dh. 330/-,Burdubai/Deira:340/-,Sharjah/Jumeirah/Ghusais/Merdif: Dhs.360/-,Ras Al Khore/Int.City/EH.Dh.390/- (Transportation availability depends on area and no. of students.)
Crèche
Kids from 3 to 6 years and without diapers are in separate classes & activities with Private specialists & helpers. The charges will be Dhs.1200/- per month including lunch & free Ice Skating.
All this operations is managed by Al Nasr Leisureland with professional staff, teachers And instructors supervised by Duty Managers, Security staff.
Activities :
• Swimming : 9:00am to 10:00am ( Two times in week)
• Ice Skating : 12:00 nn to 1:00 pm (Two times in week)Skating timing can be change due to other school booking.
• Rhymes, Stories with action & Drawing, Art & Craft.
• Face Painting, Cooking class, Henna, Dance (Wednesday & Thursday)
• Reading Quran for Muslim kids only, every day.
• Outdoor trips only, Every Tuesday, (Extra charges as per trip).
• Swimming & skating days is subject to be change according to the no.of Students.
• Limited seats only for Crèche Children's.
Requirement For Registration :
• 2 Passport size photograph.
• Fill up Summer Camp application.
• Fill up Transport application with clear address and map if required.
• Registration starting from May 15th 2017.. (9.00am to 1.15pm) Summer Camp office, (3.00pm to 9.00pm) Reception.

N.B. Application forms available at the Reception / the Summer Camp Office and www.alnasrll.com.
Note: -
• No refund against registration.
• Cancellation Charges: - 20% of the balance amount if any emergency cancellation is made after the registration.
• Those who use our transportation must drop their child on the 1st day of the Camp. Yellow/Green T/shirt with bus. Red/Maroon T/shirts without Bus.
• Students can join any day without transportation except Tuesday.
• All are requested to register their child at least one day before.
For more information please contact 04 3371234 or Fax No.04 3374952
E-mail. SUMMERCAMPANL25@gmail.com, www.alnasrll.com.