AL NASR LEISURELAND SUMMER CAMP 2021
FROM 20th June to 26th August 2021 Sunday to Thursday from 9:00 am. to 1:20 pm.
For the kind attention of the Parents

Dear Parents,
Enroll your child in fun filled summer camp experience with our most popular programme
which incorporates an extensive variety of activities to keep all children
entertained & develop skills. All of our activities are perfectly suited to the age and
ability of the children so that we can get the best out of every child.
Our various activities are scheduled and numerous, so we would like to explain the system
Of our operation and how it could be beneficial to your kids.
Age
Registration Fee
Duration
: From 7 to 13 years
: Dhs. 1000/- (Two T/Shirt free)
: One Month (22 working Days) (Sunday to Thursday)
Activities included:
• Swimming: Daily from 9:00 A.M to 10:00 A.M. One session with instructors & group lesson 20 min. Supervised by our lifeguard. (Sunday to Thursday)
• Ice Skating: (General) every day one hour. (Sunday to Thursday).
• Cooking & baking classes every Monday for girls (for above 10 yrs. only).
• Art & Craft: Sunday to Thursday (9:30 A.M to 1:15 P.M)
• Dance: Sunday to Thursday (12:00 Noon to 1:15 PM)
• Henna: Wednesday & Thursday
• Reading Quran for Muslim kids only.
• Food & Refreshment: Kids are required to bring their own meal box. Sharing meals not allowed.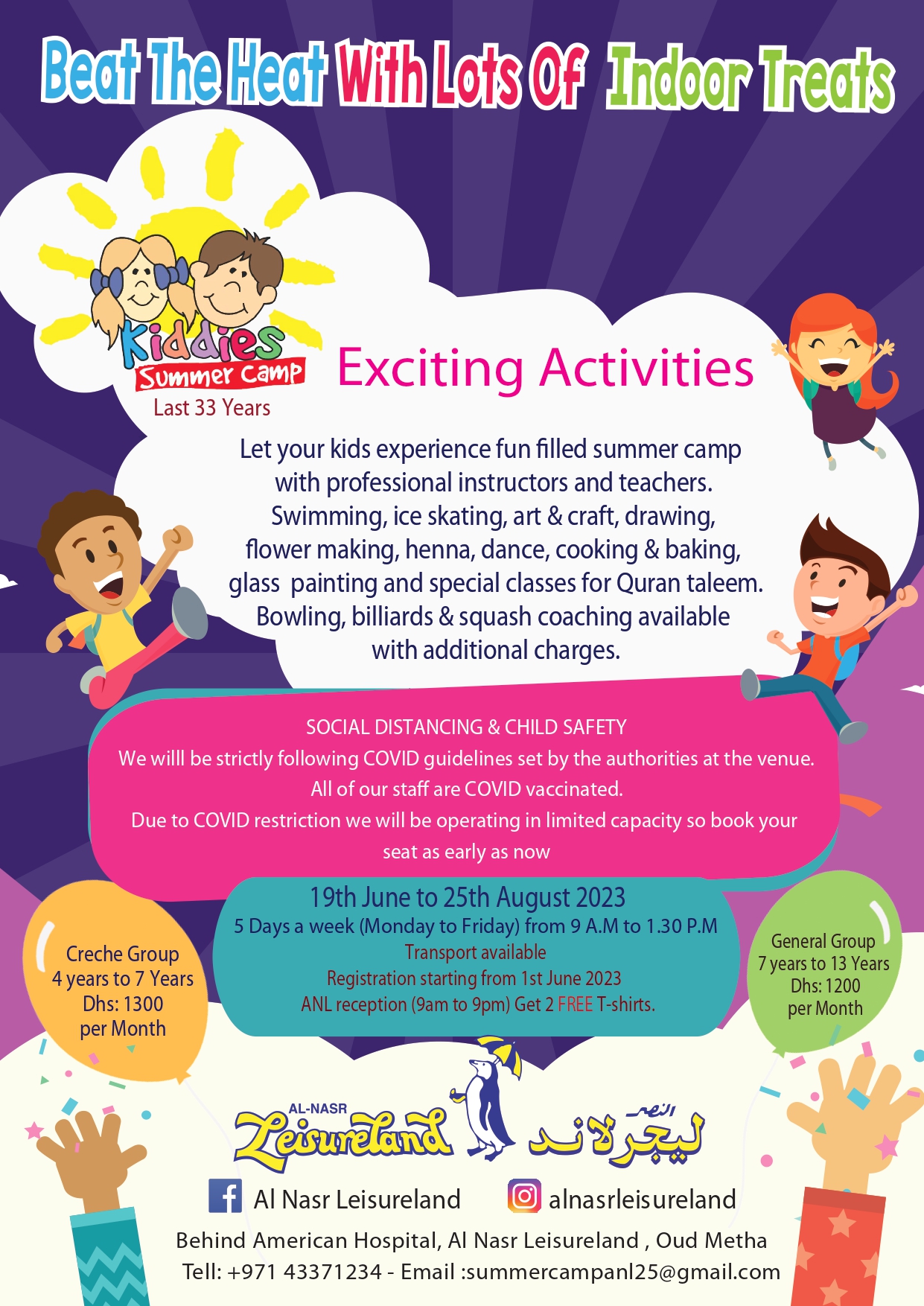 **Additional activities to be charged by prepaid coupon at the rate of Dhs. 5/- (coupon on sale at Summer Camp office and at the Reception)
• Bowling: General Dhs. 5/- per game.
• Billiards: General Dhs. 2/- per game.
• Squash: Dhs. 300/- (10 classes, timing from 12:00 Noon – 1:00 P.M)
• Meals: Special Kids menu designed by our Executive Chef will be served at our Al Safa Coffee Shop at a very reasonable price.
• Transport: Insured shuttle buses will pick up and drop your children safely from Dubai or Sharjah and back.
ADDITIONAL CHARGES:
KM/Lamcy /RH: Dhs. 300/-, Karama: Dhs. 380/-,
Burdubai /Deira: 390/-, Sharjah/Jumeirah/ Ghusais/Merdif: Dhs.400/-,
Ras Al Khor/Int. City/EH. Dhs. 450/-
(Transportation availability depends on area and no. of students.)
Crèche
Kids from 4 to 7 years will be in separate classes with professional staff & helpers. The charges will be Dhs.1200/- per month. All this operation is managed by Al Nasr Leisureland with highly trained & dedicated teaching staff. All the instructors are under the supervision of Duty Manager & Security Staff.
Due to COVID restriction we will be operating in limited capacity so book your seat as early as now.
Activities :
• Swimming: 9:00am to 10:00am (Two times a week)
• Ice Skating: 9:30am to 10:30am (Three times a week) Skating timing can be changed due to other school booking.
• Rhymes, Stories with action & Drawing, Art & Craft.
• Cooking, henna & dance classes (Wednesday & Thursday)
• Reading Quran for Muslim kids only, every day.
• Swimming & skating days is subjected to change according to the no. of students.
• Limited seats for Crèche Children's.

Requirement For Registration :
• 2 Passport size photograph.
• Fill up Summer Camp application.
• Fill up Transport application with clear address and map if required.
• Registration starting from 1st June 2021. Timings 9 A.M- 9 P.M at the reception.

N.B. Application forms available at the Reception / the Summer Camp Office and you can visit our website: www.alnasrll.com.
Social Distancing & Child Safety:
• 2 We will be strictly following COVID guidelines set by the authorities at the venue.
• Temperature check will be done for every child before entering the camp.
• All the kids should be wearing mask compulsorily all day except during sports activities.
• All of our staff is COVID vaccinated.
• 13 year old child should be fully COVID vaccinated.

Note: -
• No refund against registration.
• Those who use our transportation must drop their child on the 1st day of the camp. Yellow/Green T/shirt with bus. Red/Maroon T/shirts without Bus.
• Students can join any day without transportation.

For more information please contact 04 3371234 or Fax No. 04 3374952
E-mail. SUMMERCAMPANL25@gmail.com, www.alnasrll.com.